With so many e-scooters on the market, it can be difficult to know which brands and models will work best for you. Carrera and Xiaomi are two of the best brands on the market, but with each having multiple models under their belt, you might not be sure which will best suit your needs.
Luckily, we've got the full breakdown of the specs so you can weigh up your options to find the perfect fit. Let the battle begin!
We'll be comparing five models, spanning a range of price points. We have Carrera's is-1 2.0 (an upgrade to the is-1) and is-2 2.0, while from Xiaomi we have the Xiaomi 3 Lite, the Xiaomi Mi Pro 2, and the Xiaomi 4 Pro.
The specs can be a lot to wrap your head around, especially if this is your first time buying an e-scooter, so we're going to break down each group of features and how they'll impact the overall performance of each electric scooter.
Getting you moving: power, speed, and range
The driving forces behind any electric scooter, the motor and battery are two components to really take a look at. They'll determine the range, speed, and climbing capabilities of your e-scooter, so it's important to weigh up the specs that each model has to offer.
Speed and motor
The top speed for all five models is set to 15.5mph in line with the legal speed limit for e-scooters, so there's not much to compare on speed alone. However, the strength of the motor is still important to consider, even if every scooter reaches the same speed, as this will impact how well you can handle hills and steep gradients, as well as how quickly you can reach this top speed.
The verdict
The Carrera is-2 2.0 and the Xiaomi Pro 4 are both highly powerful, each with a 350w motor for excellent hill climbing ability. This makes them a great choice if your average route includes several hills and inclines.
As for the other models, the Xiaomi Pro 2, Xiaomi 3 Lite, and Carrera is-1 2.0 all have a 300w motor. This level of power will still give you an extra push up those hills, but it doesn't match the is-2 2.0 or the Pro 4.
Battery and range
The range of an electric scooter is determined by the capacity of the battery. Generally speaking, the higher the capacity, the longer the range – or distance that can be travelled – on a single charge.
It is important to note, however, that the range an e-scooter achieves day to day is dependent on a lot of factors, and the maximum range is calculated on the basis that the scooter is ridden in optimal conditions. Things like the weather and surface conditions, rider weight, and how many hills you ride up will influence the range that an e-scooter achieves.
The verdict
The Xiaomi Pro 4 comes out on top with a huge maximum range of 30 miles on a single charge. The Pro 2 is a close second with a maximum of 28 miles, while the Carrera is-2 2.0 hits a maximum of 22 miles.
After that, the Carrera is-1 2.0 follows with a range of 18 miles before you'll need to recharge, and the Xiaomi 3 Lite hits 12.4 miles.
Once again, it's important to remember that these ranges are a best-case scenario, and the range you achieve in reality may differ depending on riding conditions.
Improving your journey: wheels, waterproofing, and extra features
While the motor and battery are what get your electric scooter going, a lot of other features are important in keeping you moving comfortably and conveniently. Let's break down the features that will impact your ride quality and user experience.
Wheels
As the only part of your e-scooter to actually touch the ground, it's important that your wheels are resilient and will give you a comfortable ride.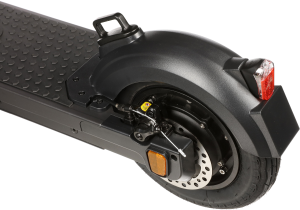 The verdict
Both the Carrera is-2.0 and the Xiaomi Pro 4 have larger 10" tyres. The increased size offers an even smoother riding experience since the larger surface area helps to better distribute the impact of any bumps. The Carrera uses anti-puncture pneumatic tyres to reduce the risk of deflation, while the Xiaomi Pro 4 boasts tubeless self-sealing tyres to deal with punctures before they cause any damage.
The other two Xiaomi models and the Carrera is-1 2.0 have 8.5" pneumatic tyres, giving a smooth ride on both flat roads and more rugged surfaces, but with a smaller tyre. However, the is-1 2.0 has the added bonus of anti-puncture tyres, giving you the confidence to ride freely without worrying about a puncture slowing you down. This is a feature that the Xiaomi models don't offer.
Water resistance
Since they're battery-operated, it's important to consider waterproof grading when purchasing an electric scooter. This takes the form of an IPX rating, which is used to evaluate how resistant products are to environmental conditions. The scooters are graded between 0 and 8, with a higher number indicating more water resistance. Each numerical level also has a description, to properly define what each grade is capable of. If you're likely to be riding through puddles and showers – which isn't uncommon in the UK – then a higher rating will offer you more protection and reassurance.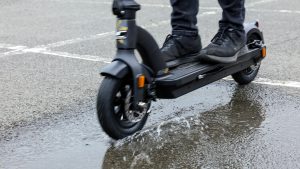 The verdict
The Carrera models have the highest resistance ratings, with both models rated IPX5, which is defined as the scooters being protected against water jets from any angle. This means that the Carrera scooters are safe to be ridden both through puddles and in light showers, so you can handle the British weather.
The Xiaomi models fall one grade below, at IPX4. This means that the scooters are protected against water splashing from any angle. Based on this definition, the Xiaomi scooters are safe to be ridden through puddles, but it's not advisable to ride in sustained rainfall.
Keeping you riding: safety and security
When it comes to keeping both you and your scooter safe, there are plenty of features to consider. From powerful braking and lighting to secure locking systems, it's important to weigh up the features that will keep you on two wheels and out of trouble.

Brakes
First, let's talk brakes: there are a few different types of braking system, each with their own benefits. Xiaomi and Carrera do differ in the types they use, so let's break it down.
The verdict
Carrera edge the brake category with disc braking on both the front and rear wheel of both models, compared to the electric front brake and disc or drum brakes of the Xiaomi models. Generally, disc brakes have more stopping power than electric brakes, and have less brake fade and better heat dissipation.
Carrera's dual disc system offers high braking efficiency in both wet and dry conditions to make sure that every time you need to stop, you can do so in plenty of time. Plus, the efficiency of disc brakes and the concentration of force means that you only need to use light pressure to brake. This saves you from any muscle fatigue or excess pressure.
The Xiaomi models use a dual braking system, mixing both physical and electrical braking. The front wheel has an electric brake while the rear wheel sports a physical brake – on the 3 Lite, this takes the form of a drum brake, while the Xiaomi Pro 4 features an upgraded rear disc brake. The two systems will engage at the same time, combining to shorten your braking distance.
The Xiaomi models do get a bonus point for the E-ABS anti-lock brake system, which prevents the wheels from seizing, but it doesn't outweigh the reliability of dual disc brakes.
Locking
It's not just rider safety that you'll be considering: we know that once you have your chosen e-scooter, you'll be keen to keep it safe, so a secure locking system is as important to us as it is to you. Xiaomi and Carrera each approach security slightly differently, so it's best to go over each system and decide which is going to give you the best peace of mind.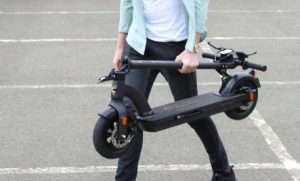 The verdict
Offering double security and peace of mind, Carrera are our pick for locking. Both models use two different types of locking mechanisms, to keep your e-scooter safe and your mind at ease. Not only is there an in-built electronic locking system, but an additional cable lock provides an extra layer of protection and a visible deterrent. The cable lock can easily be pulled out, wrapped around a secure object, and then locked in place using the combination barrel to deter opportunistic thieves and keep your scooter safe.
For the Xiaomi models, security takes the form of the Mi App, which also handles much of the scooters' connectivity capabilities. The Xiaomi scooters don't come with any physical locking mechanisms, but instead can be locked digitally – just connect your scooter to your phone via Bluetooth, and you can operate the remote locking system right from your mobile using the Mi App. From here, you can also activate cruise control, view rider stats like remaining mileage and current speed, modify various personalized settings, and update the firmware.
The Pro 4's security is a little more sophisticated, though, as it's the world's first scooter with a UL IoT Gold security rating. Features include a QR code unique to your scooter for authentication, a binding mechanism to ensure other devices can't connect to your scooter without your approval, and a security chip to make sure that only your own Mi Home App can control the scooter.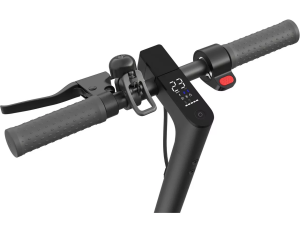 The final results
So, we've weighed up all the features – who's come out on top?
For us, the Carrera is-2 2.0 offers the widest range of features, with long-lasting tyres, a powerful motor, and secure brakes. However, the best scooter for you will depend on the types of journeys you'll be making, and the five we've looked at span a wide range of needs and budgets, so give the full specs a read to help you make an informed decision:
| | | | | | |
| --- | --- | --- | --- | --- | --- |
| | Xiaomi 3 Lite | Carrera is-1 2.0 | Xiaomi Pro 2 | Carrera is-2 2.0 | Xiaomi 4 Pro |
| Speed | 15.5mph | 15.5mph | 15.5mph | 15.5mph | 15.5mph |
| Maximum range | 12.4 miles | 18 miles | 28 miles | 22 miles | 30 miles |
| Battery | 5.2ah | 7.8ah | 12.8ah | 12.8ah | 12.4ah |
| Motor | 300W | 350w | 300w | 350w | 350W |
| Hill climb | Good hill climbing ability | Excellent hill climbing ability | Good hill climbing ability | Excellent hill climbing ability | Excellent hill climbing ability |
| Wheel type | 8.5″ Pneumatic | 8.5″ Anti-puncture pneumatic | 8.5″ Pneumatic | 10″ Anti-puncture pneumatic | 10″ tubeless self-sealing tyres |
| Brakes | Electronic front and rear drum | Dual disc | Electronic front and rear disc | Dual disc | Electronic front and rear disc |
| Waterproof rating | IPX4 – splashproof | IPX5 – rain and puddle proof | IPX4 – splashproof | IPX5 – rain and puddle proof | IPX4 – splashproof |
| Multifunctional display | ✓ | ✓ | ✓ | ✓ | ✓ |
| Speed modes | 3 modes | 4 modes + walking assist | 3 modes | 4 modes + walking assist | 3 modes |
| Cruise control | ✓ | ✓ | ✓ | ✓ | ✓ |
| Pin Lock | | ✓ | | ✓ | |
| Cable lock | | ✓ | | ✓ | |
| App connectivity | ✓ | | ✓ | | ✓ |
All five electric scooters we've looked at are available at Halfords.com, so whichever one you go for, you can be sure that we'll be there every step of the way.
Looking after your e-scooter
Once you've made your decision, it's time to start thinking about caring for your e-scooter long-term. Here at Halfords, we've got the perfect package to make sure your e-scooter stays in tip-top condition for the whole year.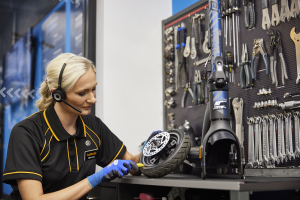 Our E-scooterCare package gives you everything you need to stay on two wheels, and comes with loads of benefits to keep your wallet happy too!
For just £40 for the year, you'll get:
Puncture protection service
Innertube replacement fitting service
Unlimited brake adjustments
10% off parts and accessories
Free accessory and parts fitting
Unlimited free safety checks
Tyre inflation and pressure checks
With all this included, you really can't go wrong. Plus, we're on hand to keep you moving after your purchase with our individual e-scooter services too, including a Free E-scooter Health Assessment, tyre/tube replacement, brake service, and brake pad replacement.
Whether you're just keeping up with routine maintenance, or your e-scooter runs into some technical trouble, you can be sure that one of our experts is on hand to help.
__________________________________________________________________________________
Whichever model you choose, you can be sure that here at Halfords we'll be with you every step of the way, from expert advice and Klarna finance options, to our E-scooterCare package to keep you on two wheels long-term. You want to go electric, you want Halfords.
Legal Warning
It's currently illegal to ride a privately owned e-scooter on a public road, pavement, cycle lane or bridleway. Privately owned e-scooters can only be ridden on private land with the permission of the landowner.
Customers should be aware that if they use a private e-scooter illegally, they could face a fine and penalty points on their licence, and the e-scooter could be impounded.