The weather is warming up and spring is fading into summer, which can only mean that the May Bank Holiday is nearly upon us! If you're stuck for ideas on how to spend the long weekend, then look no further. Here at Halfords, we've got everything you need to keep the whole family entertained.
1. Day out
There aren't many better ways to spend a day than exploring the beauty of the UK landscape. If a day trip sounds like the perfect Bank Holiday activity, then we've got all the best accessories for the journey, as well as experts on hand to make sure your car is in tip top shape before you set off!
Prepping your car
Before you embark on a long, sunny drive, you may want to check that your car is in good health – no one wants to break down halfway through a journey! Here at Halfords, our experts are on hand to make sure that everything is working as it should with a 10 Point Car Check. We'll assess areas like your tyre depth, oil levels, and battery health to name a few for just £15, and you could even get it for free with the halfords motoring club – but more on that later.
A Free Air Con Check might also come in handy to make sure you can keep cool on a sunny drive! It takes just 15 minutes, and we'll assess the pressure of your AC, your gas quantity, and your refrigerant levels.
In-car entertainment
While a long car ride can be an adventure, it can sometimes be a bit boring. If you fancy livening up your journey, look no further.
An in-car DVD player is a great way to keep little ones entertained, fitting to the front headrest for easy viewing from the back seats. Plus, car DVD players are completely independent of the car's audio system, meaning that while the kids watch their favourite movies, you're free to listen to your own music – you may even want to upgrade your audio system for some quality listening.
A bike ride
After driving around all day, you might be tempted to stretch your legs a little and explore the area you've travelled to. A bike ride is a great way to get the whole family involved in an outdoor adventure, and to make the most of the (hopefully) sunny Bank Holiday weather. To save any fuss and make transporting your bikes as easy as possible, you'll want a bike rack.
If you've got a few bikes to transport – and don't fancy trying to reach the roof! – then a bike rack fitted to a tow bar is a great option. Not got round to having a tow bar installed? Don't worry, our Halfords Mobile Experts are here to help – we can fit a new tow bar right on your drive! You can read all about the tow bar fitting process in this handy article.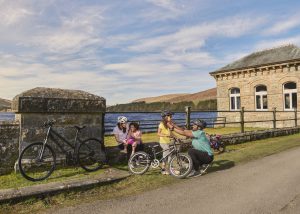 The halfords motoring club
If you are embarking on a long drive this Bank Holiday, then the halfords motoring club is the perfect companion! It gives you access to a range of amazing benefits and discounts that will help to keep you moving, keep you safe and keep you saving.
It's free to join and you'll receive instant benefits worth £35. Or upgrade to our Premium membership for just £49 (or £4.99 per month) to unlock 5% off member pricing on all motoring products and services online and across our stores, garages and Halfords Mobile Experts, as well as benefits worth £100.
With MOT deals, free car health checks, welcome vouchers and always-on discounts to enjoy, this is too good an opportunity to miss!
Join the halfords motoring club today at www.halfords.com/motoring-club.
2. Spring clean
With an extra day to spare, why not put it to good use and make time for those jobs you never get round to? Having a day dedicated to organising, cleaning, and tidying can save you time trying to find things in the future and is often a great way to de-stress!
Deep clean your car
The long weekend is the perfect time to give your car a really thorough clean in time for the summer months – and you can get the whole family involved! We've got everything you need to get your car gleaming, from shampoos and waxes to sponges and brushes – and there's no car cleaning tool more fun than snow foam! Once you're done, you can complete the head-to-toe wash with a Car Jar Air Freshener, to get your interior smelling like your favourite Yankee Candle.
If drafting in the rest of the family sounds like fun, then check out our blog on car cleaning with the family for a full list of ways to washing your car more exciting.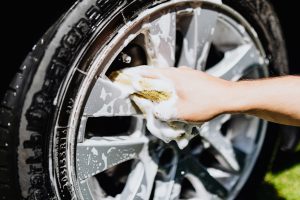 Organise your garage
Once the car is shining, it might be time to give your garage a little TLC – they can often become an area to store anything you don't want cluttering the house, so spend a day sorting through all your tools, gadgets, and other objects to make the space work for you!
A great way to restore some order to a garage is with some clever storage solutions. Adding shelving and wall storage may sound simple, but the benefits are huge. A set of shelves will not only maximise the space available but will also help you to keep everything organised with a proper home for all your belongings.
Wall storage hooks are another great option to take full advantage of wall space and keep floor clutter to a minimum. You can get specific ones for hanging bikes or ladders, or just install some standard hooks to keep everything tidy and easy to hand.
If you've got lots of tools strewn across your garage, then some tool storage is also a great option – not only is it tidier, but it'll also help you to find what you need! A tool box or tool chest will restore some order and help you to reach your tools quickly and easily, as well as looking smart too.
3. Fun at home
If some downtime at home sounds more up your street, then there's plenty of activities you can do to make the most of the Bank Holiday without having to leave your house.
Dinner outdoors
Who doesn't love a bit of alfresco dining? Take advantage of the warmer weather and longer days and enjoy your dinner in the garden! If you're hosting, then a gazebo is a perfect way to keep all your food covered and offer a bit of shade to sit in while the kids enjoy the sunshine, and a coolbox will keep your drinks and sweet treats ice cold.
During the day, a garden picnic is a great way to make lunchtime exciting. Getting outside in the fresh air to enjoy some food together is a great way to spend time together as a family, as well as a lot of fun! To save having to worry about damaging any glass or ceramic kitchenware, our range of rainbow plastic cutlery, bowels, tumblers and plates are tough and durable, and stack together for easy storage once your picnic is done!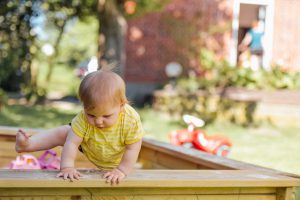 Garden adventures
Once all the food's been eaten, it's time to play! There are all kinds of ways to get the family outside and having fun in the garden, from treasure hunts and games to even getting involved in some gardening.
When night falls, set up the tent in the back garden and spend a night outdoors. You'll get the full camping experience without having to leave your garden, and the house is a stone's throw away if you need anything. Or, if you don't fancy spending the whole night outside, set up a comfy area and finish the day with some stargazing – you'll have a lot of fun finding constellations, then when you're done you can just head back inside!
For some more ideas of outdoor fun that the whole family can get involved in, check out our blog on fun garden adventures.
---
And there you have it: three ways to spend the long weekend. Whatever you decide to do this Bank Holiday, we've got all the tips, tricks and products to make it a success, so head over to Halfords.com to explore the full range.