TomTom sat navs are some of the most popular on the market thanks to their range of smart features and handy benefits. Their updated range contains useful upgrades that will help add ease and efficiency to your journeys from avoiding low emissions zones to enhanced visual cues.
Keep reading to discover the latest range of TomTom sat navs, which include the TomTom Go Expert Plus, the TomTom Go Navigator, and the TomTom Go Superior.
TomTom Go Expert Plus
The TomTom Go Expert Plus contains valuable upgrades to help make life easier for professional drivers, all displayed on a large 7-inch screen. It's the dedicated HGV sat nav that creates bespoke routes tailored to your vehicle's dimensions. So, if you're an HGV driver, you can rest assured that you will always be on roads suited to your vehicle.
The upgraded Expert Plus model contains new features including the option to avoid low emission zones, save multiple vehicle profiles, enhanced visual cues, and USB-C connectivity. For even greater convenience, there is a premium pack option that contains a dual charger, 2 adhesive discs, and a leather carry case.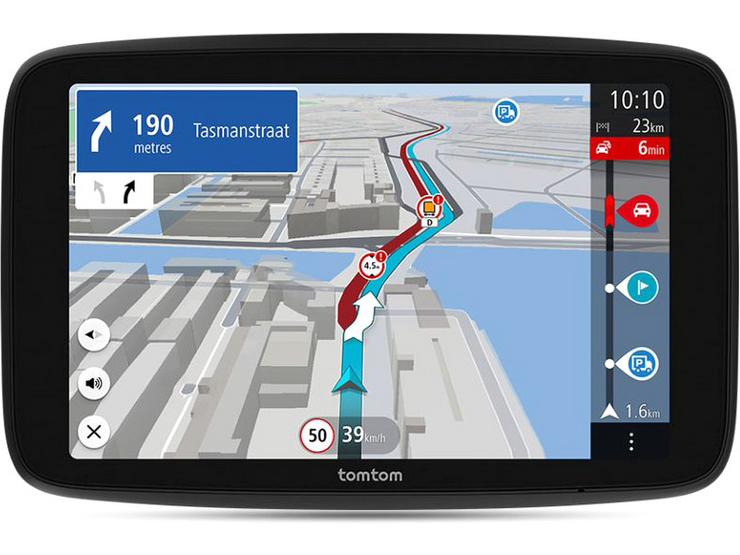 You can, of course, still enjoy the classic features such as lifetime map updates, lifetime traffic, and 12 months of speed camera alerts, so you can always be prepared for any journey.
TomTom Go Navigator
The TomTom Go Navigator is a great all-round sat nav for any driver. The large 6-inch interactive screen gives you a clear view of your route and includes lifetime TomTom world map updates, so you know you're always following the latest routes.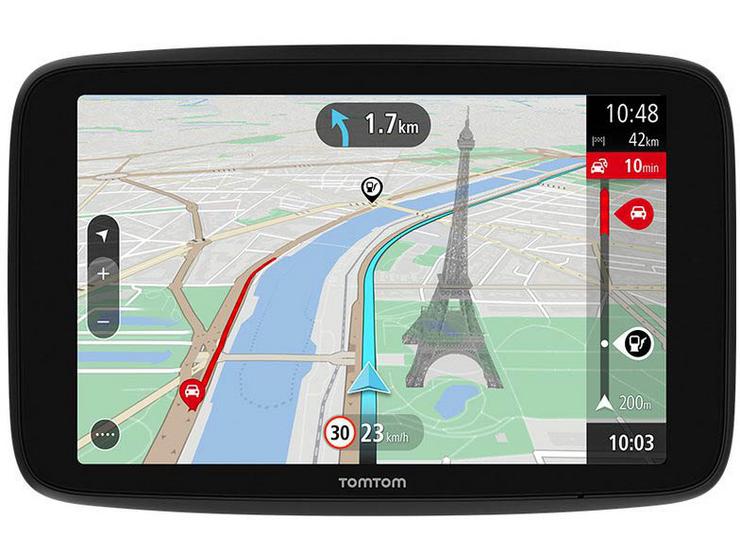 The unique RouteBar™ is perfect for seeing your route at a glance to give you a general overview of your journey. Lifetime traffic updates will alert you to roadblocks, accidents, and traffic jams for no extra cost. It also includes lifetime map updates (every quarter), 12 months of free speed camera alerts and, best of all, all updates can be downloaded via wi-fi, so you no longer need to connect to a computer.
TomTom Go Superior
The TomTom Go Superior is the perfect sat nav for those who value clear, precise directions. The enhanced visual cues and moving lane guidance alert you to upcoming turns and lane changes, so you never have to miss your turning again!
To further enhance visibility, you can personalise visuals to suit your preferences, including map colour and route lines, so your view remains as clear as possible.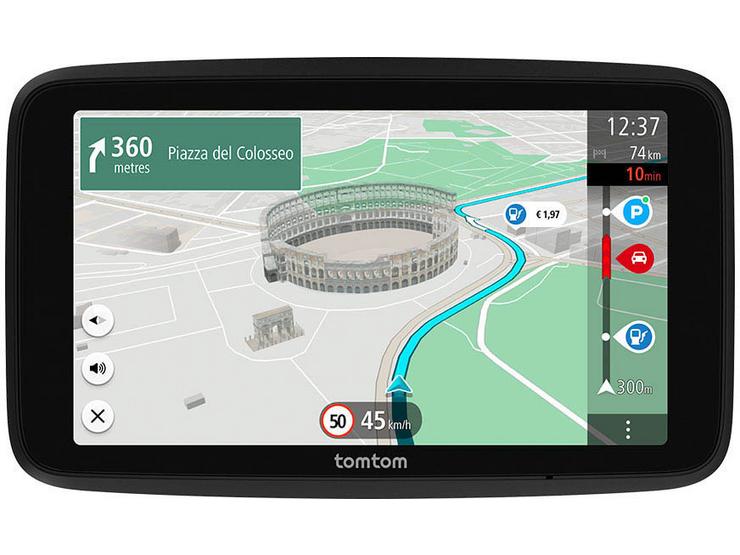 Choose between a 6-inch or 7-inch touch screen and take advantage of trusted TomTom world maps and live traffic updates, so you always know you're on the fastest route. It also includes the option to avoid low-emission zones so you can avoid a potential fine if you drive an older vehicle.
You can enjoy 12 months' worth of TomTom services for free which includes live fuel prices, speed camera alerts and off-street parking availability.
As you can see, all the latest TomTom sat navs contain useful features that will provide valuable assistance, whatever kind of driver you may be. For more information, or to explore our full range of TomTom sat navs, head over to halfords.com today.