Wouldn't it be great to have a nice and neat garage, where you had space to work, storage to spare and the perfect place to hang your favourite tools? Well, we heard your cries and we've found the answer (with a helping hand from the talented folks at Sealey).
The Sealey modular garage storage solutions are brand new to Halfords.com and represent a significant step forward in the storage and work surface options we can offer our customers. We've got five variations to choose from and here's a quick rundown of some of their key features and benefits.
Ample storage
The Sealey Modular Storage System come with a variety of cabinets and drawers, giving you a vast amount of storage space at your fingertips. With this model you get two chests of drawers (seven drawers and four drawers respectively), a two-door floor cabinet, a wall cabinet with a tambour front and two standard wall cabinets. The back panels also have holes in them so that you can hang extra tools with ease.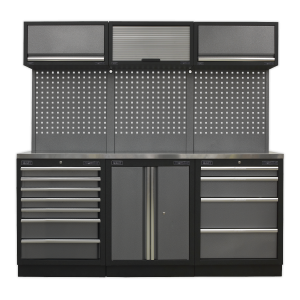 The Sealey Modular Storage System with Full Height Cabinet offers a slightly different setup. A full height cabinet runs down one side, while a five-drawer chest of drawers and two-door cabinet make up the rest of the floor units, and two wall cabinets provide extra storage above the back panels.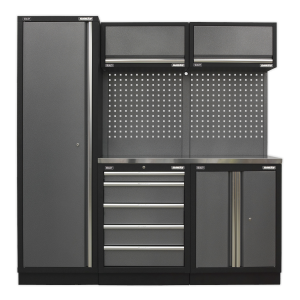 Whatever style you choose, the Sealey modular garage storage solutions provide a wealth of options when it comes to storing your tools. You could even treat yourself to one of each style and then put them together to give yourself the ultimate storage solution and a great place to work.
Handy worktop
Speaking of which, the worktop is another important element of these storage solutions. There are two options:
38mm thick stainless steel

(shown above):

36mm thick pressed wooden worktop

(shown below):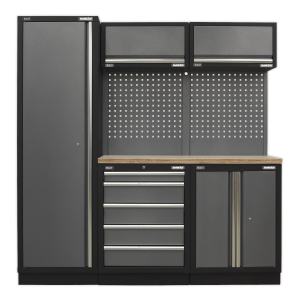 Both give you plenty of space to carry out your work, so it really comes down to personal preference.
Strong and durable
The modular storage systems all have a tough and durable construction with a hammered metal finish. The drawer handles and pulls are aluminium, while the drawers are also fitted with ball bearing drawer slides and the wall cabinet doors with gas struts for easy opening. It's all about ease-of-use and practicality with these modular units.
Mobile
No, we're not claiming those big Sealey modular storage systems are mobile (as great as that would be!). But if your storage needs are smaller and your mobility needs larger, then the Sealey Mobile Tool Cabinet 4 Drawer will be right up your street.
This little gem features a 25mm thick wooden worktop, four drawers (each with a capacity of 45kg), aluminium pull handles and non-slip liners. There's also a side storage cupboard with a shelf and pegboard inlay.
The cabinet boasts four large caster wheels (two fixed and two swivel) as well as a side handle, which means you can easily move it around your garage or workshop to wherever you need it to be for a given job.
---
We hope that's given you a bit of an insight into our great new storage options, the features they all offer and how well they would work in your garage or workshop. To find out more and check out the full range of Sealey hand tools, just visit Halfords.com.