More and more of us are seeing the benefits and rewards of cycling. It keeps you active, fit, you get to see more of your surroundings and it's fun. No doubt plenty of New Years' resolutions this year will include 'Must get on my bike more next year'.
But, how easy is it to keep this commitment to yourself when life gets in the way? The two biggest factors that stop us from getting on our bikes are pretty obvious. The first one is TIME. It's challenging to try and fit in this kind of exercise when you've got a busy work life and a demanding home one. How do you make it all work and not feel like you're letting yourself down?
The second one is the dreaded British WEATHER. With our unpredictable climate, more often than not all your good intentions are met with some complaint when you look out the window to see a wet and windy day.
So, how can you get past these barriers so that you still achieve your fitness goals and get the most out of your bike in the new year? Well, here at Halfords, we've been thinking about this. As an honorary member of your cycling support team we've got some ideas that will help you get on your bike regardless of the dodgy weather and life's daily time pressures.
Helmets on everyone! We can do this!
Choosing the right bike for you
You might already have some wheels sorted and be ready to go. In which case, skip to the next section. If not, choosing a new bike is the best bit! And you want to choose well to give yourself the best chance of sticking to using it regularly. We've got over a 100 years experience in cycling and our selection includes some of the best bikes out there. From sleek road bikes good for commuting, to hardy mountain bikes for off-road terrain. Our electric bikes give you a bit of extra oomph when you need it most and our brilliant range of kids bikes means no-one gets left out. They're all online or you might prefer to come in-store. One of our bike experts can walk you through the Halfords cycling range and help you make the best choice for your preferred mode of transport and exercise in the new year.
Keeping warm
Even on some of our best Spring days it can still feel a little breezy, never-mind on a crisp day in February. Now, you might be someone who isn't fazed by the cold. Lucky you. But for most of us, stepping out from our cosy living room isn't always the most appealing of ideas. We need a bit of a motivator or at least some added comfort.
Get yourself kitted out with some base layers and thermals from our cycling range and stay warm. There is some fantastic technology being developed now that keeps the extra moisture away from your skin as you build up a sweat later in your ride but that will also keep you dry and comfortable from the start. Now, opening your front door to chilly temperatures won't feel like such a shock to the system.
Shine a light
As the nights draw in and the sun is rising later, the winter months can feel pretty miserable. Much easier to stay in bed right? Easier maybe but you'll feel so much better to have squeezed a ride in and got the blood pumping. Our bike light selection will quickly help lighten the mood. We've got front and rear options as well as helmet accessories all of which will light your way on those dark mornings and also keep you visible. Enjoy the peace of those crisp winter mornings and feel smug that you actually made it out of your bed. Extra brownie points for you.
Plan ahead
It seems pretty obvious but one of the main reasons that our exercise intentions don't come to fruition is because we've not planned ahead. Making a commitment early on is much more likely to lead to success. So, have a look at the week ahead and plan in your cycling time. Trying to decide on the day probably isn't going to cut it.
Pimp your ride
It's good to have as many incentives as possible to get you on the saddle when there are distractions around that might derail your plan. However you fancy accessorising your bike, we can help you out with our range of cycling accessories. From bottles and bike cages so that hydration is within easy reach, to bike bags and baskets so that you're well prepared for your trip. Why not add on some mirrors and a fitness tracker? You may as well go big! Talking of which, our range of smart helmets mean you won't even have to lift an arm to indicate with LED lights doing the job for you. You could even add a camera to record the live action! By the time you've finished accessorising you won't need much persuasion to put foot to pedal.
Track your achievements
One of the best ways to make progress towards your goals is to note your achievements. You're much more likely to keep going out on those damp days if you know you're making headway with your fitness levels. One of the best ways to do this is through one of our cycling technology options.
We've got fitness trackers that you can wear that will monitor everything from your heart rate to steps taken and calories burned. You'll be able to see exactly what you've gained from the effort you're putting in, even while you're doing it! Also, check out our cycle and GPS range for more advanced tracking. These clever bits of kits know exactly where you are and will record your speed and performance. They'll even help with your training by setting challenges specific to your location and terrain you're on. Another motivator to get out there and know you're achieving something!
Secure your gear
Once you've made the decision to get on your bike, the one thing that might be keeping you going is the thought of a coffee from your favourite coffee shop at the end of your ride. Don't rob yourself of a well earned treat by not being able to lock your bike up at the other end. Our wide range of D and Cable locks will mean you'll be all set to relax after your ride and enjoy your morning caffeine kick.
Beat the time clock
Life just seems to get busier and busier. And, sometimes there are simply not enough hours in the day or evening for that matter, to get out on your bike. But that doesn't have to be a barrier. Turbo Trainers bring cycling to you without you having to leave the house. You can still use your own bike, it just means you can ride it indoors. Hook it up to one of the compatible apps and you can simulate an uphill or downhill ride. It's a brilliant way to fit in exercise when time is limited and it's impossible to leave the house.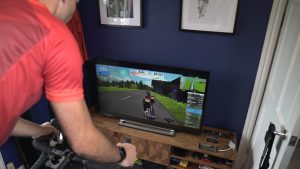 Run out of excuses yet? We hope so because we know how beneficial cycling can be to our health and well-being. Halfords has been championing cycling for a long time and we want to help you get the most enjoyment out of it, regardless of the weather! Take a good look at our extensive Cycling range online and please do come into your local store where we'll be delighted to talk you through some excellent choices. See you out there!