As the weather warms up, we're all keen to start improving the look of our outdoor spaces – whether you're planning to host barbeques, set up an inflatable pool, or just have some fun with the kids, a clean and tidy garden is part of the process.
However, gardening isn't always an enjoyable hobby, especially if you've left it too long and you've got quite a mess to tackle on your own. That's where you need the right tips and tools to get the job done easily.
So, we're breaking down some of our favourite garden tools and tricks to get your outdoor spaces spring and summer ready in no time.
Cleaning the decking
Before you start tackling the plants, it's useful to get everything clean first so you can see exactly what you're working with. Without the right kit, this can mean scrubbing your decking by hand and struggling to reach the gutters, but there are some handy tools to make the job easier.
If your patio or decking is the main pain point, then a good scrub can make all the difference. This 3-piece Patio & Decking Brush Set is perfect for lifting stubborn grime and scraping away weeds and moss, with a comfortable long-reach handle to make cleaning easy.
After the harsh winter weather, chances are your garden furniture, decking, patio, and even your other gardening equipment could do with a high-power clean. While you may already have one to wash the car, a pressure washer is ideal for the garden too.
Something like the Karcher K4 is perfect for blasting away dirt easily, so you don't have to spend time and energy scrubbing. You don't have to worry about damaging anything either, as you can adjust the pressure to suit whatever you're cleaning.
Maintaining the greenery
Figuring out how to tackle the garden when it's overgrown can be tough, but there are a few tools you can use to make light work of pruning and trimming.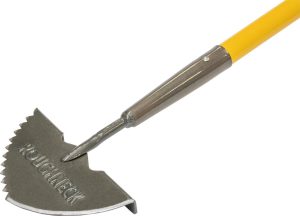 If your lawn edges are in serious need of some TLC, a Lawn Edging Iron can really come in handy. The blade has both a serrated edge and a sharp edge to cut through turf with ease, and a large tread foot means that you can apply less pressure. So, you can keep your lawn and borders looking neat and tidy without struggling to dig them out.
As for the plants, don't be afraid to trim! A pair of secateurs are handy for keeping flowering plants and shrubs at bay, and it'll also keep them healthy and ready for them to flower. Any trees or large shrubs with dead branches should also be trimmed to make way for new growth – a pruning saw will make light work of removing any thicker branches.
Keeping everything tidy
Once you've put the hard work into cleaning, prepping, and planting, you'll want to keep your garden looking fresh long-term. The ideal solution? Some garden storage! An easy storage solution can make a big difference to the look of your garden, without you having to spend much time or energy. Just keeping garden furniture, tools, and other bits and bobs tucked neatly away can help to keep your outdoor space looking brand new.
First, try to streamline what you do and don't need – there's no point in cleaning and tidying something that you're not going to use, so be sure to have a clear out of any old toys and broken furniture.
Once you've figured out what's staying, it's time to find somewhere to put it. There are plenty of outdoor storage options, from metal sheds to wooden chests, so take the time to look through your options and what works best with the space you've got.
Some final tips
Gardening may sound like a daunting task, but it really doesn't have to be if you stick to what's manageable for you. A trimmed lawn and a few flower beds can transform the look of your garden, making time spent outdoors even more enjoyable.
The average soil shouldn't need too much prep work to be ready for some planting – a quick rake over with a hoe and a shovel for any stubborn areas should rejuvenate the ground ready for you to sow. If you don't have any borders or floor space to plant, you can still get a few colourful patches into your garden with a flowerpot or two.
It's often the smaller things that add up to make a big difference, so try to tackle any jobs you've been putting off outside – painting an old fence or repairing a broken gate can transform the look of your garden.
Watering a whole garden of plants might feel overwhelming, but a quick splash with the garden hose should be all they need to stay healthy. Another easy addition is a bird feeder – encouraging the birds into your garden will not only make it a more pleasant space to be in, but it'll also help out the local wildlife!
---
With everything clean and tidy, all there's left to do is enjoy your revitalised space! If you need anything else over the summer months to keep your garden fresh, head over to Halfords.com or pop into your local store.
You want summer gardening, you want Halfords.